Using Vivitrol to Lower Crime Rates
Crime is a problem that will exist for all time. Stating that is more a form of acceptance than a negative outlook on humanity. What's important is for rehabilitation efforts to be effective. Those who are incarcerated or under the supervision of criminal justice agencies are mostly there because of drug or alcohol related crimes, and that is where the solution lies. Several ongoing studies have shown that the use of Medication Assisted Treatment (MAT), like Vivitrol, may keep "ex-cons" out of trouble.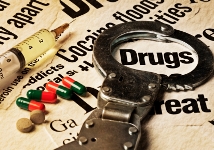 Heroin addiction is a major catalyst for quite a few criminal behaviors. The simple need to support a drug habit leads to theft (mostly petty), prostitution, and getting involved in drug dealing, just to name a few. These are crimes that may be committed by one person on a daily basis until they are arrested and jailed. So to stop the heroin use means relief for many victims.
Vivitrol is an injectable form of Naltrexone that is taken every 30 days. This medication reduces cravings for heroin and other opiates/opioids by blocking receptors in the brain. It helps addicts new in recovery to focus on recovery and counseling sessions, without the distraction of very strong cravings.
One small study at the Maryland Department of Public Safety and Correctional Services offers a good basis for discussion. While even the researchers state that their methods lacked sufficient scientific standards, the results of the Vivitrol treatment study are very interesting. Only 14 prison inmates participated, and 7 exhibited some form of motivation to remain drug free. When taking into account all of the damage that one crime can do, that is a very good return.
Of the 7 who were motivated for recovery, 1 enrolled in a residential treatment program and 2 in an outpatient program. Another 4 entered Methadone or Buprenorphine Maintenance programs. It's not clear from the report, but a fair guess is that all participants used heroin or another opiate after being released from custody and during Vivitrol treatment. This is, sadly, all too common. For these 7, though, they at least found the motivation to turn their lives around and continue treatment.
There are many other Vivitrol studies and pilot projects in progress at correctional facilities across the nation. They were started for good reason; Vivitrol treatment works and increases the likelihood that addicts will find recovery. Further reasoning suggests that if that success is applied to addicts in the criminal justice system, then crime rates will decrease.
The documented success of Vivitrol treatment has also motivated states to adopt legislation meant to prevent crimes. As an example, Massachusetts State Rep. Randy Hunt has been "trying to garner legislative support for a bill that increases access to treatment for addicts in trouble with the law." The overall goal would be to provide treatment for addicts convicted of drug crimes in the hope of preventing them from committing more serious crimes in the future.
At a public forum that was held near Cape Cod, hosted by Hunt, Barnstable County Sheriff James Cummings spoke about how Vivitrol was being provided on a voluntary basis to inmates being released from jail. The program began in 2012 and 50% of the 82 participants are still in treatment, and, more important, only 9% have been re-incarcerated. More details about what is happening in Massachusetts can be found here:
The two examples above, where Vivitrol has been effective in reducing crime rates, are small in scale to the national picture. Studies and pilot projects are thinly spread across the country, and we have yet to see any negative results. Imagine if Vivitrol treatment was to be applied on a larger scale.
Addiction treatment in lieu of incarceration, in traditional form, has been proven to decrease recidivism and reduce costs to the community. Adding Medication Assisted Treatment, with a spotlight on Vivitrol, is showing promise as a way to turbo charge those improvements in American societies.
Tarzana Treatment Centers offers Vivitrol to eligible clients in some of our criminal justice programs. We've been providing Vivitrol to all eligible patients for years, and have seen some true miracles. Individuals who couldn't stay clean and sober for more than 30 days, who we treated for years before they started Vivitrol treatment, were suddenly in recovery for months at a time. We're seeing just as much success with patients suffering severe mental health disorders, where staying clean and sober is vital to healing.
Tarzana Treatment Centers in Los Angeles provides a full array of health care services including adult and youth alcohol and drug treatment. We specialize in treatment for mental health and substance use disorders, and have two primary medical care clinics in the San Fernando Valley and Antelope Valley and specialized services for HIV/AIDS care. If you or a loved one needs help with alcohol dependence, drug addiction, or co-occurring mental health disorders or from other services we offer, please call us now at 888-777-8565 or contact us using our secure contact form.
Telemedicine services are also available with online medical care, online mental health treatment, and online alcohol and drug treatment.
Southern California Locations for Alcohol and Drug Treatment
Tarzana Treatment Centers has locations all over Southern California in Los Angeles County. Other than our central location in Tarzana, we have facilities in Lancaster in the Antelope Valley, Long Beach, and in Northridge and Reseda in the San Fernando Valley.