Overmedication
When individuals take too much of a prescribed drug or take several drugs that don't play well together, it can be said that they are overmedicating. The practice is similar to overdosing, and the terms can often be interchanged. Overmedication is pretty common, though, and you'd be surprised to know that you may engage in it without even being aware.
Prescription Medication Warnings
Prescription drugs always come with warnings so that you know what not to do when taking them. When it comes to medications for pain, mental health, and sleep, you can bet that the "don't take with alcohol" warning is in big letters on a neon yellow background. You can also take this to mean "don't purposely try to enhance impairment that already comes along with taking this drug". More important than trying to keep you sober, though, is that the warning means to keep you alive.
Even if you don't drink alcohol or use illegal drugs, a prescription's warning may go on to inform you about using other medications that could cause harmful or fatal side effects if used together. People who have been in vehicle accidents could be prescribed pain medication along with something to calm their anxiety and something to help them sleep. This is a potentially harmful cocktail of pills if dosing instructions are not followed. These medications provide needed relief in the short term, but can land you in the hospital if you don't follow doctor's orders.
Still, Accidents Happen
Small children can be overmedicated by parents who sincerely mean well. When the little child has a bad cold, both parents do everything they can to provide relief. It could be that, or pain, or some other issue, but it's easy for a parent to lose a little hold on reality and say, "One helped nicely, and two will help better". The consequences can range from increased congestion from over-the-counter (OTC) allergy medication to the result that we really don't need to get into.
All of the above happens every day, and people suffer some degree of negative results. Most of the time, they are unaware that they are doing harm to their bodies. Taking an opiate pain killer every day causes damage to the liver, and some formulations can do intestinal damage. This can shorten a life, and lead to complications if surgery is ever needed for some unexpected event (like a vehicle accident).
People with sleep disorders might be prescribed Zolpidem (better known as Ambien®) for short term relief. This medication is approved by the Food and Drug Administration (FDA), is effective for its intended use, and is a good example for this article. The individuals who are prescribed this drug just want some uninterrupted sleep for a while. So they might have high expectations, or are in a hurry to use it so they don't heed warnings.
Zolpidem Overmedication Study
The Drug Abuse Warning Network (DAWN) at Substance Abuse and Mental Health Services Administration (SAMHSA) released a report that looked at the "total estimated number of zolpidem-related emergency department (ED) visits involving overmedication". They did not include visits that involved illicit drug use, when the medication was not prescribed to the patient, or suicide attempts. The study focused only on those who overmedicated on zolpidem, whether or not other legally-prescribed medications were involved at the time of the ED visit.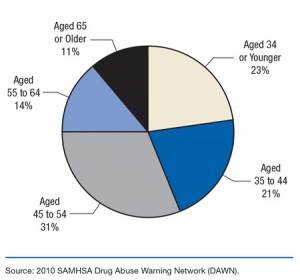 Interesting to note from the study is that from 2005 to 2010, zolpidem-related overmedication visits to the ED nearly doubled (21,824 to 42,274). Females accounted for 68% of the 2010 visits, and most of the total used zolpidem in conjunction with other medications. The majority of patients ranged in age from 35 to 54, although the age at time of admission was pretty evenly spread throughout the adult population.
In the final discussion, the study authors concluded with this:
"Adults of all ages can help prevent overmedication by closely following the instructions for when and how to take all medications. If symptoms persist when the recommended amount of zolpidem is taken, patients should consult their prescribing physician. Health professionals can warn patients never to exceed the recommended dose unless told to do so by the prescriber."
Considering the amount of prescriptions written for zolpidem medications every year, one would be hard-pressed to blame the medication in itself. This study sends an important message, though, that people need to be more careful about taking any medication. Even if taking one more of a pill than is prescribed only results in a severely itchy big toe, it means that you are doing something to your body that is causing a negative reaction.
Take Care with Medications
Take a step back and review how you take medications or how you give them to your children. If you are overmedicating because you think or know that the prescribed dose isn't working, then you should talk to your physician. After all, you take medications to improve your life. Why would you purposely take them in a way that would harm it?