Hepatitis C Update – Part 2
For many people, effective treatment can cure hepatitis C. In the past, hepatitis C treatment consisted of the combination of two standard drugs, pegylated interferon and ribavirin. This drug combination had about 50% success rate and many who used them experienced unpleasant side effects. In December 2013, Sofosbuvir was approved as the first polymerase inhibitor to fight HCV. It is generally well tolerated and safe. Sofosbuvir in a once-daily oral dose, plus ribavirin is the first interferon-free HCV treatment and has a success rate of about 90%. While this is great news, the cost of the medication can be a barrier to care. The standard 12 week course medication is priced at about $84,000 – that is $1,000 per pill. The cost of treatment is covered by many insurance companies and, at least in LA County, Medi-Cal covers the cost of treatment if the provider is willing to jump through some hoops to make it happen.
Not everyone living with HCV needs immediate treatment. Some people with HCV who do not have serious liver damage are waiting before starting treatment. Whether or not someone decides to begin HCV treatment, it is critical that people living with HCV maintain a healthful lifestyle, and see a doctor regularly to have their liver health monitored.
Tarzana Treatment Centers remains on the forefront when it comes to hepatitis testing and treatment. TTC provides free HCV tests at its Northridge Clinic, and at its Central, Lancaster and Reseda Locations.
At the Northridge Clinic, HCV testing is now routine for all patients. At Central, the goal is to test 100% of all patients in Detox and Residential. The "Storefront" at Central provides both HIV and HCV testing to the community as well as those seeking services at TTC. Testing is only part of the solution. Linkage to care is vital. For those testing positive, a referral is made to TTC's medical clinic at Reseda where Ann Vavra, P.A., and Phyllis Cohen, M.D. have much experience treating patients with hepatitis C. The support staff at the clinic has been very successful in getting Medi-Cal to cover the cost of treatment and has used patient assistance programs to get medication for those without insurance. We are fortunate that we can refer our patients for testing, treatment and on-going care without having to make any outside referrals.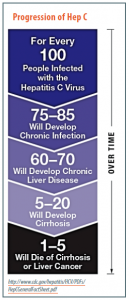 Chronic hepatitis C can cause a major and increasingly significant public health concern. Although HCV has been a "hidden epidemic" for some time, public health campaigns and rapid testing technologies have the potential to raise HCV status awareness, allowing those with chronic HCV to assess their options with a medical provider. At the same time, researchers' are making significant treatment break-throughs that hold the promise of a cure for many. By encouraging our clients to take a HCV test, we can help clients learn their antibody status, prevent HCV transmission, and link to care, if needed.