Integrated System of Behavioral and Medical Care
Introduction
Founded in 1972, Tarzana Treatment Centers' (TTC) mission is to provide high quality, integrated healthcare that improves the quality of life and health of patients regardless of financial resources, and contributes to a reduction in the total cost of care.  This mission is aligned with the intent of the Affordable Care Act and specifically parallels the goals of the Triple Aim of a) improving the quality and overall experience of care; b) improving population health; and c) reducing per capita cost.  Today, TTC is a leader in providing integrated healthcare services for Substance Use Disorders, Mental Illness and Primary Medical Care, including specialty HIV/AIDS medical care.
TTC's integrated model of care is based on our decades of health service delivery experience and is not replicated in the same comprehensive nature by any other provider in California.
TTC provides a full continuum of adult and youth substance use disorders treatment services, including inpatient medical detoxification, residential detoxification,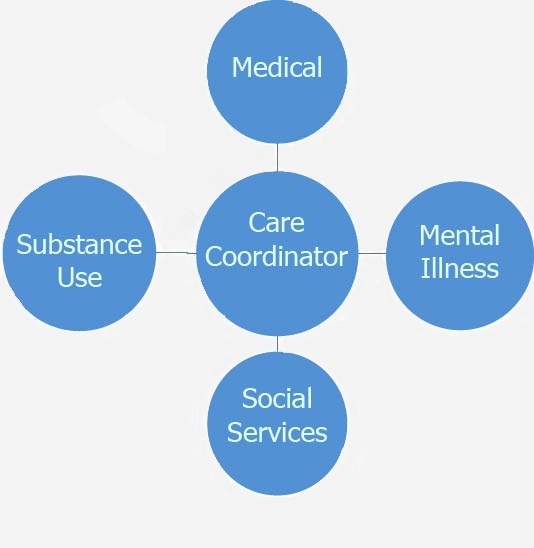 psychiatric stabilization, residential and outpatient rehabilitation, and an array of mental illness treatment services both inpatient and outpatient. We are also well versed in the care of those suffering from both mental illness and substance use disorders. TTC  integrates behavioral health services into all our primary and specialty care clinics and integrates primary care into all of our behavioral health services.  TTC provides services for mental illness to  all age groups and provides supportive services that include housing, benefits assistance and transportation.    Guided by population-health metrics and patient-centered care standards, TTC provides integrated services that are coordinated, comprehensive and team-based.  All patients are screened and assessed for medical and behavioral health conditions, and receive whole person care guided by an integrated treatment plan.
No Wrong Door Access
TTC's clinical integration approach supports a "no wrong door" access model.  In this model, no matter where patients enter TTC's integrated system, whether that be through any of TTC's behavioral health services, primary medical clinics or other social support services provided in the community, they are assessed for both medical and behavioral health conditions and referred to the appropriate service at TTC or to an external provider.  This approach allows TTC to reach individuals, who may already have a medical home at TTC's primary care clinic, with a variety of behavioral and specialty services that they may need.  And, it allows TTC to reach many individuals in behavioral health services who currently don't have a personal physician, and established medical home.  TTC screens patients for risky alcohol/drug use, signs of depression/anxiety, and for any underlying trauma that may necessitate a referral for additional treatment.  Using standardized screening tools, TTC is able to identify any patients who may need a referral for additional Mental Illness and/or Substance Use Disorders interventions and/or treatment services.  TTC regularly assesses all patients for tobacco use and provides routine screening and testing for HIV and Hepatitis as part of our standard of care.
Chronic Diseases
TTC believes that Substance Use Disorders and Mental Illness should be understood and treated like other chronic medical conditions (e.g. cancer, diabetes, asthma or hypertension) that are treatable but likely to recur.  TTC cross trains medical and behavioral health staff so that they have at least a minimum understanding of chronic behavioral and medical conditions and of the basic medications and approaches to care for the most commonly encountered conditions.  Thus behavioral health staff are trained to understand the basics of medical chronic diseases such as diabetes, asthma, and hypertension, and their correlation to Substance Use Disorders and/or Mental Illness issues.  Primary medical staff are trained on screening for behavioral health conditions and brief intervention models using standardized screening tools.
Chronic Care Management
TTC's integrated system puts special focus on care management and coordination for individuals with chronic Substance Use Disorders , Mental Illness and/or medical conditions.  This approach improves the quality of care and helps achieve significant cost savings for the healthcare system as a whole particularly due to reductions in patient reliance on emergency medical and psychiatric services.  Using a team based approach, TTC centralizes service delivery in a patient Care Coordinator, who is responsible for ensuring that both medical and behavioral healthcare needs of patients are being met.  The patient's team is comprised of individuals representing the various health services being accessed by the patient, whether they be medical, behavioral and/or supportive services.  The Care Coordinator is responsible for the cross communication among the various disciplines serving the patient, including the scheduling of regular case conferences to discuss patient care issues.
Health Information Management
TTC's integrated system relies on an Electronic Medical Record that allows our providers to communicate in a seamless fashion and gives them access to patient medical and behavioral health information in real time.  TTC maintains just one integrated medical record for all the patient's medical and behavioral health treatment episodes.  This record lists all of the patient's diagnoses, problems, treatment goals & objectives, and interventions in a single database.
Third Party Resources
In order to maximize resources for patient care, TTC is an approved Medicare, Medi-Cal and private insurance provider.  This helps ensure that other government contracts and grant resources are used only for patients and services not covered by insurance programs.  TTC regularly screens patients for benefits eligibility and provides direct assistance to patients in completing their applications for any public benefits that they may be eligible for.  TTC contracts with most health plans for traditional commercial, Covered California, public plans, as well as many medical groups, and most other behavioral health carve out managed care plans.  We have developed close working relationships with these groups and maintain close communications regarding patient care and care coordination.
Patient Centered Medical and Behavioral Health Homes
The high standard of quality achieved by TTC's integrated system is indicated by continuous accreditation by The Joint Commission since 1987.  The Joint Commission accredits TTC under the Hospital, Behavioral Health, and Opioid Treatment Standards (both inpatient detox and maintenance).  In addition, TTC's integrated services are recognized by the Joint Commission's certification of TTC under the Behavioral Health Home and Patient Centered Medical Home standards, making TTC one of the few organizations nationally to have achieved certification in both areas.